Data Integrations
Along with API usage, data upload from spreadsheets, and manual data entry, Waytobi also gives you the option for automated data integration from third-party applications.
Connecting to a data source
The shortest and easiest way for data integration from a third party application is through the connection wizard. One way to do this is to activate the data sources when you first access your Waytobi account.

If you haven't done so when first accessing your account, you can integrate an existing data source anytime through the data source management tab. To do that:

1. Go to Administrate tab;
2. Choose Data Sources;
3. Click the Add a Data Source;

4. Search for the preferred data source and select it to integrate with the Waytobi platform;
5. Provide your login details to access your account.
You may have more than one account integrated with your data source, so as soon as the file is linked to the preferred data source you will need to choose which account you want to integrate it with.
What's more, you may also choose specific KPIs that you need to integrate into your account from the data source (Google Analytics).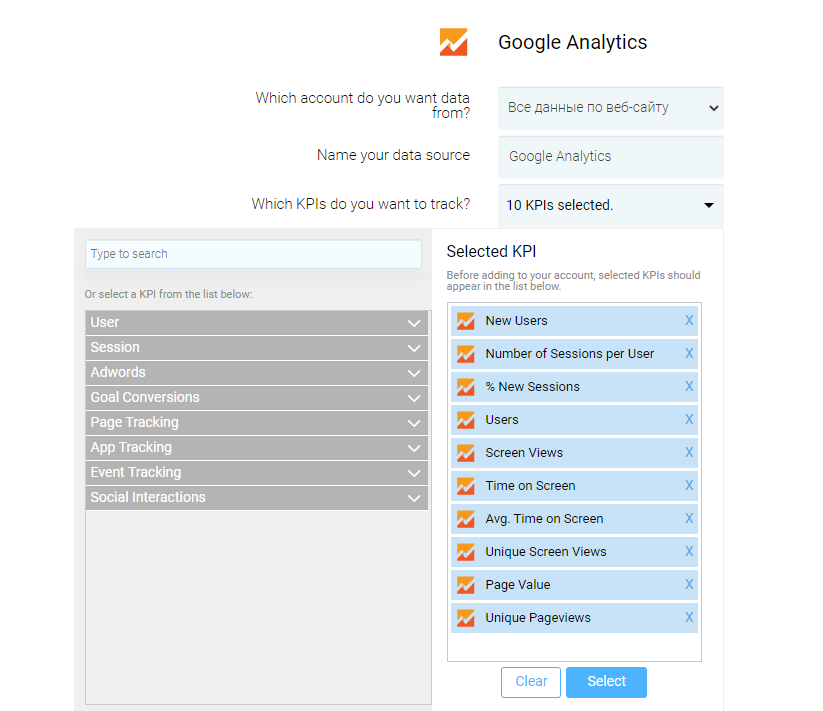 Once you've finalized the list of selected KPIs please click Select or Add.

Now you'll be able to see it on your data source management screen where you can edit, delete or add additional sources.

All data sources are regularly synced to keep your data fresh and up to date. If you need to refresh the data source manually, just click the Get Data button.